22/03/2022
On 16 March 2022, the Court of Cassation welcomed Mr Moubangat, vice-president of the Supreme Court of the Republic of Congo, and Mr Bobongo, vice-president of the Administrative Court of Brazzaville, for a discussion on the missions and functioning of the Cour de cassation (Court of Cassation), and a presentation of the Court's international policy through the networks of the Francophonie (AHJUCAF). 
This meeting took place thanks to a study visit organised by the Council of State, the aim of which was to present the French legal and jurisdictional system.
The visit provided an opportunity to discuss the structures and organisations of the two States' courts, the challenges faced by the two courts, particularly in terms of access to case law and legal documentation, and to compare the models of dual and unique system of jurisdiction.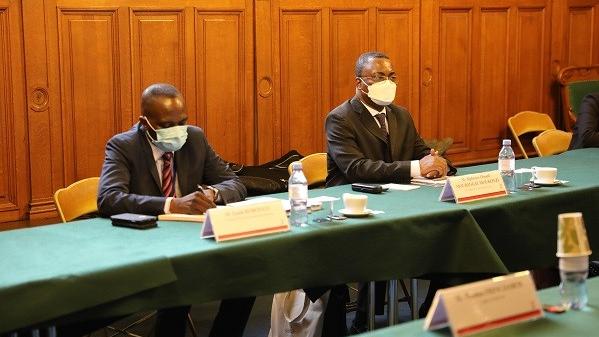 Mr Patrick Matet, Honorary Dean, presented the functioning and the recent and future reforms of the Court of Cassation, notably on the drafting of judgments,  and answered questions from the members of the Congolese delegation. This meeting was also an opportunity to exchange on the actions of the AHJUCAF, the Republic of Congo being a member of this association. Mr. Thomas Frinchaboy, AHJUCAF's representative, exposed the actions carried out by the association, in particular in the reinforcement of the dialogue of the French-speaking judges, in particular the VIIth Congress of the AHJUCAF which will be held in Cotonou (Benin) from 30 June to 2 July 2022.
At the end of the meeting, it was agreed to continue the exchanges on these various questions, in particular concerning the dissemination of case law and access to documentation.