05/11/2021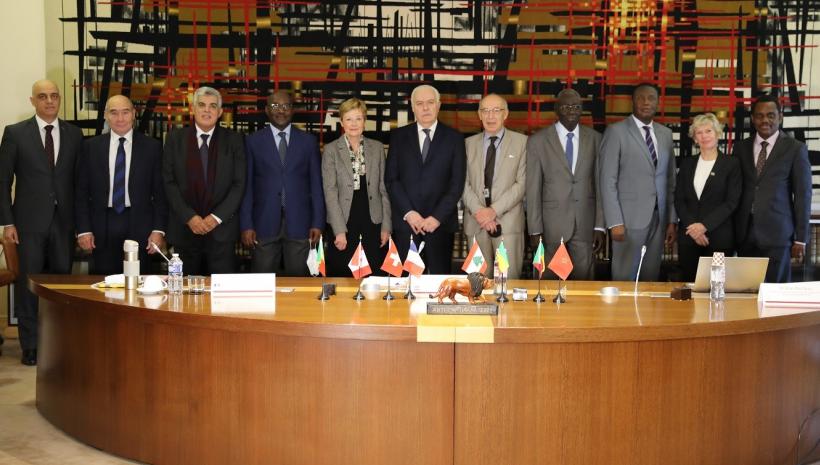 On 29 October, First President Chantal Arens participated in the annual Board of the Association of Supreme Courts of Cassation of French-speaking Countries (AHJUCAF), as vice-president of the Board.
First President Abboud from the Court of cassation of Lebanon currently chairs this Board, which is the executive committee of the association and gathers 49 judiciary supreme courts. It is composed of supreme courts presidents from eight different States, sharing the ambition to promote French-speaking law model (French Cour de cassation, Lebanese Court of cassation, Beninese Supreme Court, Senegalese Supreme Court, Moroccan court of cassation, Malian Supreme Court, Swiss Federal Court, Canadian Supreme Court).
The attendees, reunited at the Cour de cassation, and videoconferencing with the Supreme Court of Canada, were pleased to meet in Paris for direct exchanges. Many topics such as French-speaking case-law publication, Dakar regional seminar dedicated to deliberation techniques and rulings motivation, the 2021 AHJUCAF Prize, the Cour de cassation's program for law books donation, common training programs and "fight against corruption" program, were on the agenda. The triennial congress of the Association will take place in Cotonou (Benin) in 2022.
On that occasion, First President Chantal Arens reaffirmed her commitment to the Cour de cassation's cooperation with the Francophone Supreme Courts of the Network. She particularly underlined the important work on globalized justice issues, such as the open data of rulings and artificial intelligence among others, led by the AHJUCAF and its General Secretary, Honorary Chamber President, Jean-Paul Jean.