06/06/2023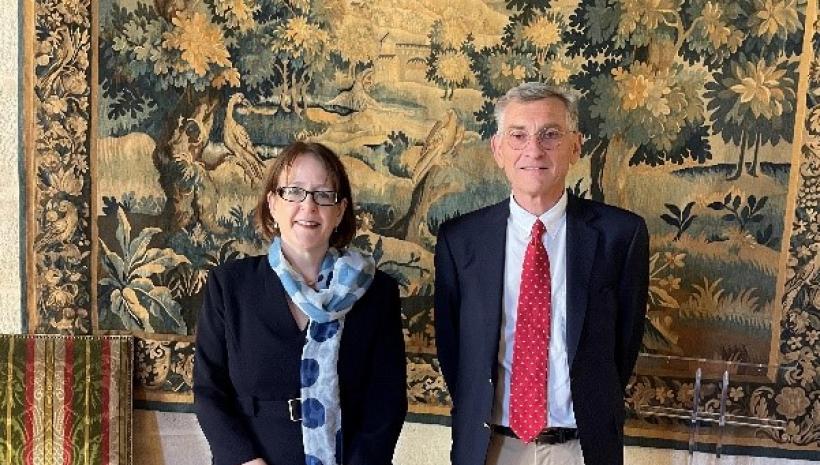 From 22 May to 2 June 2023, Ms Kirsty Ayre, an English judge specialised in employment law, attended a training course at the Conseil des prud'hommes de Paris and the Cour de cassation.
The Franco-British-Irish Judicial Cooperation Committee organises exchanges between judicial authorities in order to encourage the sharing of information and promote mutual understanding of the judicial and legal systems of the Member States.
As such, Judge Ayre was able to go to the Conseil des prud'hommes during the first week, where she was able to observe the working methods of the first instance in employment law and discuss matters with the various members of the court.
During the second week, Judge Ayre was welcomed at the Cour de cassation.
Advocate General Laulom and Advocate General Gambert discussed with Judge Ayre the organisation of the Public Prosecutor's Office in the Social Division, the appeals process and the various hearing's progress.
Mrs Ayre was able to see this information illustrated by attending several hearings of the Social Chamber.
Mr Molinié, President of the Ordre des avocats au Conseil d'Etat et à la Cour de cassation, and Ms Ayre then discussed the specific role of lawyers in cassation proceedings.
Finally, Judge Ayre met President Gunier-Lefevre, President of the Social Pole of the Cour d'appel de Paris, with whom she discussed the differences between legal systems in employment law.
These exchanges of magistrates promote an efficient dialogue between judges through better knowledge of different judicial systems. Magistrates from the Court will be received, within the same framework, by member countries of this network.